About the Couple
Jacob and I met in 2015 while working for the Cleveland Cavaliers.  We were both members of the in-game entertainment team called the Cavs Crew. During this time we shared so many unforgettable memories including the 2016 Cleveland Cavaliers Championship. After two amazing seasons of being good friends and coworkers our relationship blossomed into something much more in early 2017.  One of our very first dates was when I (a proud Polish Princess) invited Jacob to join me for his first Dyngus Day celebration.  On this day we drank Tyskies, I taught him how to polka dance and he met most of my extended family. This is the date we both recognize as the day we fell in love with each other.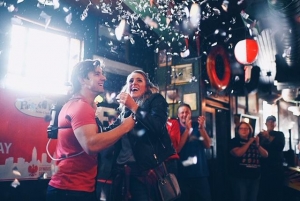 Later that summer Jacob accepted a new job which took us to Austin Texas where we currently live.  During our time in Texas our love for each other has grown as well as our love for Cleveland.   While Texas has been great for our careers Cleveland will always be our home and holds a very special place in both of our hearts. For Jacob it was a no brainer to not only propose while home in Cleveland but to do so on Dyngus Day with our closest friends and family spraying us with squirt guns!
We are both extremely proud of our city and would not want to get married anywhere else or on any other day!
Na Zdrowie!!!
Michelle Slak & Jacob Mostoller